COVID-19 Cases Hit 224: New Cases Announced In Lagos, Abuja And Edo, 2 Recovered Patients Discharged
opera.com
Apr 5, 2020 11:54 AM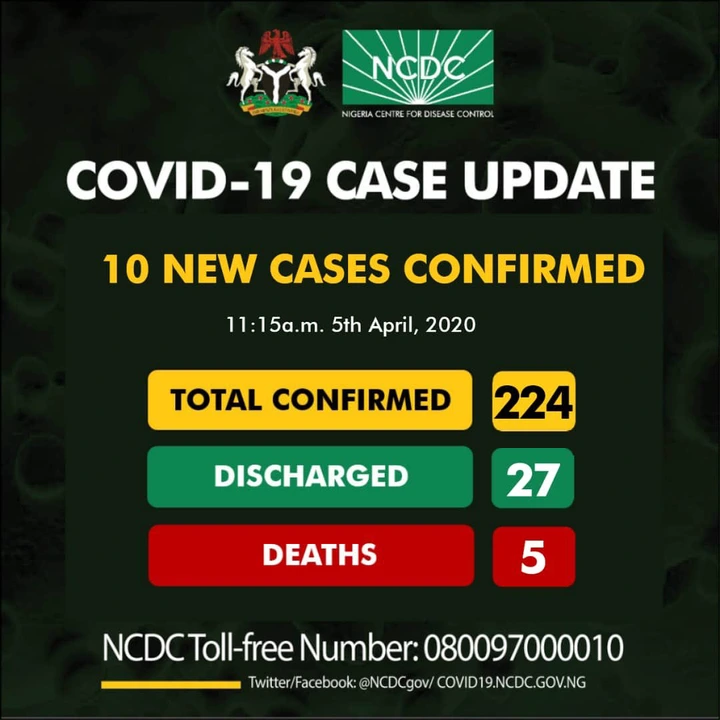 The Nigeria Centre for Disease Control (NCDC) has announced 10 new cases of of COVID-19, the new cases were reported to come from Lagos State (6) and Federal territory Capital, Abuja (2), and Edo State (2).
The new reported cases (10) that came in today Sunday 5th of April from Lagos, Abuja, Edo State have now increased the total number of confirmed cases in Nigeria to 224. Unlike yesterday Saturday 4th that had no case of discharged persons, NCDC also announced the discharged of 2 fully recovered persons that have now tested negative if the COVID-19.
As at 11pm Saturday 4th of April, 2020, the breakdown of COVID-19 cases by State is written below:
Lagos - 115
Abuja - 45
Osun - 20
Oyo - 9
Akwa Ibom - 5
Kaduna - 4
Edo - 9
Bauchi - 6
Ogun - 4
Ekiti - 2
Enugu - 2
Benue - 1
Rivers - 1
Ondo - 1
Active cases - 192
Discharged Persons - 27
Death - 5
Total confirmed cases - 224
My people, as the government and Nigeria Centre for Disease Control intensify the efforts in tackling this deadly virus I urge us to be an abiding citizen. Maintain high level of hygiene, avoid social distancing and keep praying. Stay home, stay safe!
Follow me for more updates and insightful articles, like the post and don't forget to share with others.
Sparkvibez